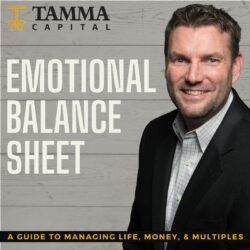 A Guide to Life, Money, and Multiples
Emotional Balance Sheet is a show focused on working parents and families who are struggling to balance the pressures of multiple financial priorities and life transitions. It is a guide to help you manage life, money, and multiples. Each episode we'll provide insights on successfully sustaining an active lifestyle, career, and family through comprehensive wealth management strategies, financial education, and lifestyle planning specific to parents raising twins, triplets, and more.
About the Host
TAMMA Capital founder and president Paul Fenner has the privilege of being the father of triplets and another daughter and having a beautiful and supportive wife. The first letter of each of their first names results in TAMMA. Paul and his family live in Metro Detroit, Michigan.
Paul has 22 years of wealth planning, portfolio management, and tax preparation/planning experience; and equal years in business accounting, finance, and operations. He received his BA from Adrian College, and his MBA from the University of Findlay.
Giving back to our community is important to TAMMA. Paul is a board member of Camp Casey (a non-profit organization that provides horseback riding programs to children with cancer and rare blood disorders), a board member of the Adrian College Alumni Board, as well as volunteering with the Commerce Elementary School PTA.
Paul holds many up to date certifications important to expert portfolio management including Certified Financial Planner (CFP®), Chartered Financial Consultant (ChFC), Registered Investment Advisor (RIA), Series 65, Chartered Retirement Plan Specialist (CRPS®) , Chartered Financial Analyst (CFA®) Level II Candidate