So, you've decided to get into podcasting – how exciting! If you're looking for a wealth of free podcast resources, you've come to the right place.
One of the most important things you need to consider for your podcast is your audio quality. Listeners get turned off by low-quality, static-filled audio. Investing in a good podcasting microphone is a must.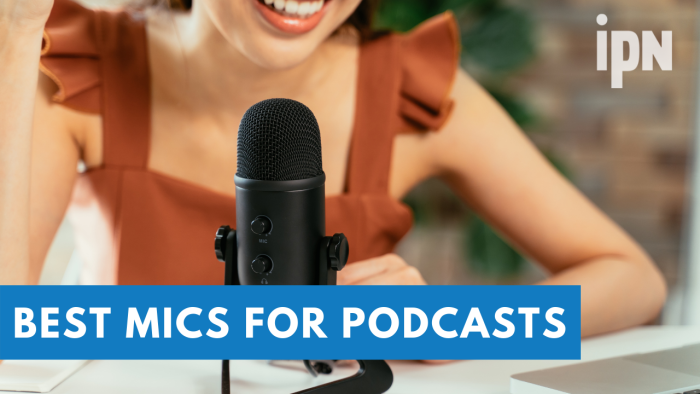 The question 'what's the best microphone for podcasting?' is one we get asked often. So, we've put together this comprehensive guide on the best microphones for podcasting (for all budgets). In this guide, we'll discuss some of the microphone options that are available for you, from entry-level podcasting microphones to professional ones.
Are you ready to find the perfect microphone for your podcast? Let's explore.
Entry Level Podcasting Microphones
Thankfully, a great podcast microphone doesn't have to cost an arm and a leg. We've checked out some of the budget-friendly microphone offerings available, and these two microphones are definitely worth checking out!
Audio-Technica 2100
This trusty mic is a podcasting favorite! It also comes with its own mic stand. The AT-2100 is a dynamic microphone with USB-C digital output and XLR analog output. The metal construction on the mic makes it super durable. A built-in headphone jack lets you monitor directly from the microphone.
Samson Go Mic
The Samson Go Mic is the perfect solution for serious podcasters who travel. It's a condenser microphone that easily connects to your computer via USB. No drivers are required. You can clip it directly to your laptop or sit it on your desk. Comes with a portable case that protects the mic.
Rode Smartlav+
This is a tie-clip mic, which makes it convenient for podcasting. You can plug the Rode Smartlav+ directly into your phone. It's a smaller microphone but still offers exceptional audio quality for a fair price. Shop the Rode Samrtlav+.
Samson Q2U
The Samson Q2U is often talked about in the podcast world, and for good reason. This little microphone is super versatile, offering XLR and USB dual output. Its audio quality beats any cheap headset mic. Find this handy microphone on Amazon now.
Mid-Tier Podcasting Microphones
This tier is suited for those looking to invest a little bit extra into their audio quality. This tier consists of reasonably priced microphones that deliver exceptional audio quality for your podcast. Here are our four recommendations for mid-tier podcasting microphones:
Shure MV7
This is a USB and XLR microphone that is easy to use. Highly versatile, we're impressed by the range of devices the Shure MV7 can record with, making it a practical choice for podcasters. This microphone even has an app interface – the MOTIV app, which comes loaded with additional features to truly customize your microphone for your needs.
Blue Yeti
The Blue Yeti is a staple in the podcasting world. Offering exceptional audio quality and a range of recording patterns, the Blue Yeti is a functional microphone that's perfect for podcasting. Whether you're looking to interview guests or do a solo recording, this workhorse is a practical option. As an added bonus, it has its own in-built stand.
AKG Lyra
The AKG Lyra is similar to the Blue Yeti in features, however offers slightly better audio quality. Although it's a little bit more pricey than the Yeti, it's a durable microphone that is praised for its ease of use and clear sound recording. The AKG Lyra has 4 different recording settings to play with, so you're able to record with others or by yourself worry-free.
The MXL990
This is a condenser microphone. The MXL990 is super affordable and offers the stellar audio quality and clear recording capabilities of a professional condenser microphone without the extortionate price tag. This podcasting microphone has a FET-based design and includes a custom shock mount and mic stand.
One of our honorable mentions is the Samson Q9U, which is a USB/XLR microphone that offers better sound quality than the Samson Q2U. We also recommend checking out the Rode Podcaster. This USB microphone is easy-to-use and is a fave of many podcasters due to its recording quality.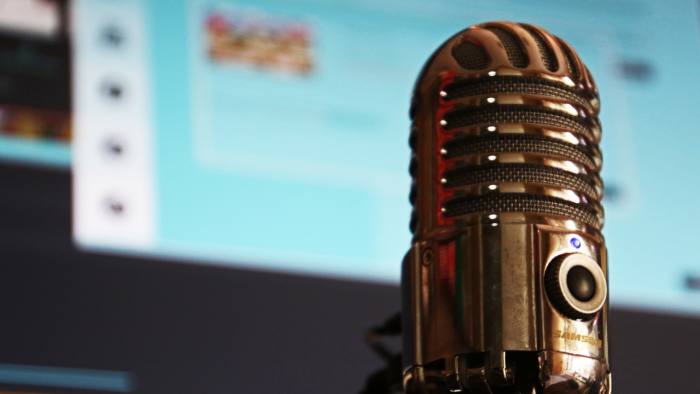 Professional Podcasting Microphones:
This wouldn't be a comprehensive guide if we didn't talk about the A-league of podcasting microphones. These are the professional powerhouse microphones that are usually used in a professional recording studio.
Professional, high-end podcasting microphones may cost extra upfront, but they deliver an unmatched level of customizability and recording quality. Here are two top tier podcasting microphones you need to check out:
Shure SM7b
The MV7's big brother, this microphone is often seen as the industry standard. It's often used in other industries for music recording and for lead vocalists, as it offers a frequency response of 50 to 20,000Hz. The Shure SM7b is a neat bit of tech. It's able to capture sound directly in front of it whilst filtering out any off-axis noise, which guarantees an unmatched quality recording. Whilst this option is a little pricier, it's an industry favorite and has been used by the likes of Bob Dylan, Metallica, and Green Day.
Rode NT1-A
This premier microphone by Rode is exceptionally clear, and delivers ultra-low noise, with a self-noise of 5 decibels. With a true condenser and wide dynamic range, the Rode NT1-A is a professional podcasting microphone is really a cut above. This microphone has a high SPL capacity, which is an unusual microphone at its price range. When you purchase this microphone, it comes with a studio-grade pop shield and shock mount, a dust cover, and a 20; microphone table. This is one of the more affordable options in this tier, and it definitely delivers. Shop this podcasting microphone online now.
Final Thoughts
No matter what budget you have, investing in a good microphone is a must for your podcast. Bad quality audio is one of the fastest turnoffs for listeners, and investing in a great podcasting microphone will help you to create a better podcast.
All of the above microphones offer exceptional recording quality. Many include practical features, like a tie-clip or in-built stand, whilst others offer plenty of sound customization options to suit your needs. Whether you're a solo podcaster or want to interview others on your podcast, one of the microphones on this list is sure to be perfect for you.
Looking to stay up-to-date with all of the free podcasting resources? Subscribe to our newsletter and follow our blog now. We post weekly and share plenty of free tips to help you get started with your podcast today.