If you're a podcaster, sooner or later you'll want to start making some money with your show. Working with advertisers is one way to offset the costs of producing your show, and can even lead to higher quality content.
But how do you go about finding advertisers? And what should you look for in an advertiser? This guide will walk you through the basics of securing brands for your podcast. So pull up a chair, and let's get started.
Would you like us to find advertisers for your podcast? Consider joining our podcast network!

How to start running ads on your podcast
So, how do you get advertisers for your podcast? Finalizing your first ad campaign can feel a bit like finding a needle in a haystack, but there are a few tried and true methods you can use to get the ball rolling.
Start with your existing network. If you have an existing network of contacts, reach out to them first. These people already know and trust you, so they'll be more likely to support your show.
Look for businesses that align with your brand. When you're considering potential ad partners, look for businesses whose products or services align with your brand. For example, if your podcast is about travel, you might approach companies that sell travel gear or services.
Research the brand and its target audience. Before reaching out to a potential advertiser, do some research on the company and its target audience. This will help you tailor your pitch and increase the chances of them saying yes.
Determine which brands are best for your podcast. Once you've done your research, create a list of potential advertisers that you think would be a good fit for your show. Include their contact information, so you can reach out to them directly.
Craft a pitch that sells your show. Now it's time to start pitching your show to potential brands When you're crafting your pitch, remember to sell the benefits of advertising specifically with your show. What can they expect in return for their investment?
Follow up with each advertiser. After you've sent your initial pitch, follow up with each sponsor to keep the conversation going. This shows that you're serious about working with them and increases the chances of landing a deal.
Be patient and persistent. Getting advertisers can take time, so be patient and persistent in your efforts. If at first, you don't succeed, try, try again. Rome wasn't built in a day, and neither is a successful podcast advertising campaign.
By following these steps, you can start to build relationships with quality brands best suited to your audience.  And through this process, you'll learn a lot, and many times you'll earn their support for your show. Just remember to stay focused, be professional, and don't give up. With a little hard work, you'll be on your way to success.
What do you need to consider when looking for advertisers?
Successful advertising partnerships between podcasts and brands happen when there is a good fit between the two parties. An advertiser should be willing to invest in your show because they believe that their products or services will appeal to your listeners. Likewise, you should only partner with brands whose products or services you believe in and would be happy to endorse.
Before you start looking for sponsors, it's important to consider the following…
Know your audience. Your audience is the most vital factor when it comes to finding sponsors. You need to know who they are, what they like, and what they're interested in. This will give you a much better chance of finding sponsors that are a good fit for your podcast.
Find the right advertisers/sponsors. Once you know who your audience is, it's time to start looking for potential sponsors. There are a few things to keep in mind when doing this…
Make sure the sponsor is a good fit for your audience. There's no point in trying to sell your audience something they're not interested in.
—   Find out what kind of content the sponsor is looking for. Does your podcast fit their needs?
—   Make sure you're comfortable with the sponsor's products or services. You don't want to endorse something you don't believe in.
Create attractive advertising packages. Once you've found a potential sponsor, it's time to start negotiating the deal. This can be a tricky process, but there are a few things to keep in mind:
—   Make sure you're clear on what the sponsor is looking for. What kind of promotion do they want? How long do they want it for?
—   Be realistic with your pricing. Don't try to charge too much, or you may price yourself out of the deal.
—   Offer a variety of advertising options. Sponsors will often be more interested if you're willing to promote their products in different ways.
Keep your listeners happy. Once you've secured a sponsor, it's important to keep your listeners happy. This means:
—   Don't overdo the advertisements. Too many commercials will make your podcast less enjoyable to listen to.
—   Make sure the ads are relevant to your audience. If they're not, your listeners will quickly tune out.
—   Be clear about what you're promoting. Don't try to trick your listeners into buying something they don't want.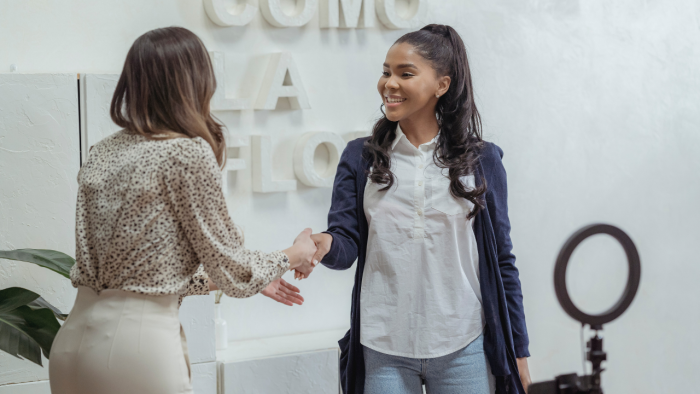 Where can you find advertisers for your podcast?
There are a few places you can look for potential sponsors…

Advertising networks: These companies specialize in connecting advertisers with podcasts. They're a great way to connect with brands, but be aware that they'll often take a cut of your earnings. Each advertising network operates differently, but you can expect them to take between 30-60% of the money earned through your ad campaigns.

Podcast networks: Most networks represent many different podcasts and genres. It creates a one-stop podcasting shop for advertisers hoping to work with several podcasts at a time. This allows more brands to find your podcast and consider advertising on your show. Sometimes podcast networks also group shows together according to their genres, which is helpful to advertisers and it also helps smaller podcasts generate more revenue because the downloads for the group are much higher than what one podcast could provide on its own.

LinkedIn: LinkedIn is a great place to connect with businesses that might be interested in advertising on your podcast. Try joining relevant groups, and reaching out to the brands directly. You may be surprised by how many people respond!

Social media: Twitter and Facebook are both great places to find potential sponsors. Try searching for companies that advertise on podcasts, or use hashtags like #podcastsponsor.
Red Flags – when an advertiser is a little too good to be true
Unfortunately, not all sponsors are created equal. There are a few red flags to watch out for….
The brand is asking for too much promotion. If a business is asking for more promotion than you're comfortable with, it's probably not worth working with them.
The brand wants exclusive rights to your podcast. This means that you wouldn't be able to work with any other advertisers, which could limit your earnings potential.
The brand wants you to promote something that makes you uncomfortable. Remember, you're the one endorsing the product – make sure it's something you believe in. If you're unsure about the product or service, ask if you can test it out in advance.
The brand is offering a very low rate. This could be a sign that they're not willing to invest much in your podcast, or that they're not confident in their product.
If you ever have any doubts about potential advertisers, it's always best to err on the side of caution and look for someone else to work with. There are plenty of great brands out there wanting to advertise on podcasts, so there's no need to settle for anything less than the best.
This guide has covered the basics of finding and working with advertisers for your podcast. Remember, the key to success is to be patient, persistent, and always put your listeners first. With a little hard work, you'll be able to find the perfect brand for your show who'll want to work with you for a long time.