Like a lot of people, you may have started podcasting as a way to share your thoughts and ideas with the world. But did you know that you can also use your podcast to create engaging video content?
In this blog post, we'll walk you through everything you need to know about filming your podcast – from equipment needed to tips for getting the best results. Let's get started!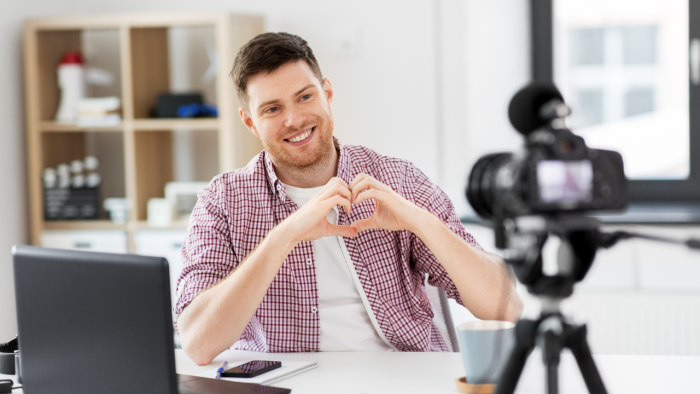 What equipment do you need to start recording your video podcast?
To get started, you will need some basic equipment for recording and filming your podcast. This may include things like microphones, headphones, lights or tripods, depending on the style and format of your show.
Recording Platform
If you have an interview podcast, you're going to need a simple solution for easily recording your guests online. Especially those guests with little to no tech experience. Our friends at Zencastr, offer a platform that's completely free and allows you to record video and audio with up to 10 people total. All the tracks are recorded separately so we can easily edit any mistakes. Zencastr also offers post-production services such as smart audio filters, audio leveling, and various recording options.
Camera
You don't need an expensive DSLR camera to film your podcast – any smartphone will do the job just fine. In fact, many podcasters and YouTubers use their phones to film their content as it's more convenient and easier to use than a bulky DSLR camera.
But, if you're set on getting an external camera, we recommend purchasing a quality camera as opposed to getting a webcam. The Canon EOS 90D is a great option for novices and professionals alike. Not only do you get stunning high-definition video, but features such as automatic eye detection are great for keeping everything in focus when you're shooting by yourself. The Canon EOS 90D is also wi-fi enabled and when connected to your computer, can easily double as the best "webcam" you've ever seen.
Tripods
Tripods allow you to keep your camera still during filming, resulting in smoother, higher-quality footage. It also frees up your hands so that you can use them for other things, such as taking notes or adjusting your mic, or recording your podcast hands-free! We highly recommend using a tripod when recording your video podcast so your audience doesn't get motion sickness.
If you are using a larger DSLR camera, such as the Canon EOS 90D, you need a tripod that is more sturdy and secure, such as the Oben AC-1441, a light-weight aluminum tripod with legs that can be easily extended to more than five feet tall.
The Aureday Camera and Cell Phone Tripod extends to more than five feet, so it can easily stand on the ground. It's compatible with all types of smartphones, both iOS and Android. It's remarkably lightweight and ultimately portable and can be converted into a selfie stick effortlessly.
Looking for a more simple tripod for your smartphone that can easily set on your desk? The JOBY Griptight GorillaPod Stand can bend to any shape you'd like! It's rubber grip and sturdy design, your footage will be shake-free.
Lighting
We recommend that you film your podcast in a well-lit room, ideally with natural light coming from a window. If this isn't possible, then consider investing in some lights to help ensure your footage is bright and clear.
The GVM 2 Pack LED Lighting Kit is affordable and allows you to create a well-lit video recording environment, even in darker rooms. It's also easy to set up and use and can be easily adjusted through an app on your smartphone!
This MOUNTDOG LED Softbox Lighting Kit is much more energy-efficient than traditional bulbs. You can adjust the LED bulb in three modes, white, warm and cold light which can be adjusted via remote control. This kit makes achieving dynamic, professional lighting easy.
If you're looking for an all-in-one lighting solution that will also help you achieve that all-important 'perfect selfie', then a ring light is a great option. Ring lights are also becoming increasingly popular with podcasters and YouTubers, as they provide a consistent, bright light that helps to reduce the appearance of shadows and wrinkles. Plus, you can purchase them on Amazon. Check out this budget-friendly, high-quality ring light from Newer. You can also purchase a smaller ring light that clips onto your smartphone or tablet.
Microphones
The Audio-Technica 2100 is a podcasting favorite! It also comes with its own mic stand. The AT-2100 is a dynamic microphone with USB-C digital output and XLR analog output. The metal construction on the mic makes it super durable. A built-in headphone jack lets you monitor directly from the microphone.
The Samson Go Mic is the perfect solution for serious podcasters who travel. It's a condenser microphone that easily connects to your computer via USB. No drivers are required. You can clip it directly to your laptop or sit it on your desk. Comes with a portable case that protects the mic.
The Blue Yeti is a staple in the podcasting world. Offering exceptional audio quality and a range of recording patterns, the Blue Yeti is a functional microphone that's perfect for podcasting. Whether you're looking to interview guests or do a solo recording, this workhorse is a practical option. As an added bonus, it has its own in-built stand.
We've written an in-depth blog post on the best microphones for podcasting, which you can check out here.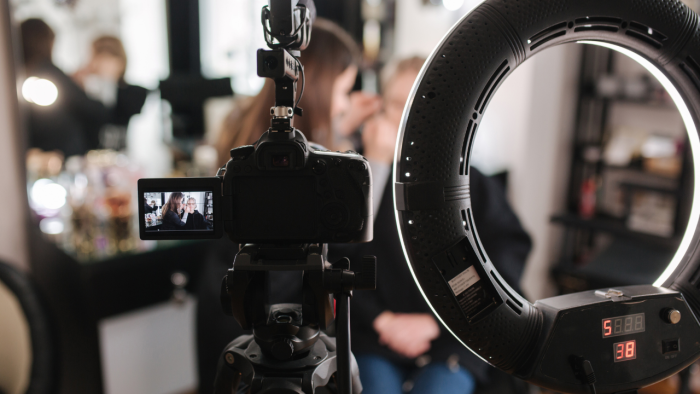 How do you set up your recording space to get the best sound quality possible?
Your recording space plays a big role in how well your podcast content translates to video – so it's important to take the time to get this right. A lousy set-up can cause technical problems, while a great set-up will make your podcast sound clear and professional.
Here are a few things to keep in mind when setting up your recording space.
Choose a quiet location with minimal background noise. This is particularly important if you want to create high-quality audio content with little or no post-production.
Make sure that you have a stable and comfortable chair to sit in and an equally sturdy microphone stand. Consider investing in some good microphones as well, such as dynamic microphones or condenser microphones.
Try to use natural light for your filming if possible, rather than relying on artificial lighting. If you do decide to use artificial lighting, try to position it so that it doesn't cast any unflattering shadows across your face. Never shoot with a window or main lighting source behind you. This will make you appear in silhouette.
Where should you be looking when filming?
When creating video content, try to look at the camera rather than away from it – this helps create a more engaging viewing experience for your audience members.
Some podcasters will set up multiple cameras during their recording sessions to alternate between looking at the camera and looking at their co-hosts. Multiple cameras also makes it easier to edit video footage together since you can jump from one camera to the next and avoid jump cuts.
What should you consider when filming your podcast episodes?
Filming your podcast doesn't have to be complicated – but there are a few things you'll need to keep in mind to ensure that your final product is high quality and engaging. Here are a few tips:
Video quality
Make sure that your video is filmed in high definition, with a resolution of at least 1080p. This will help ensure that your content looks sharp and professional when viewed on a range of devices, from computers to smartphones.
Framing
When setting up your shot, make sure that you leave some headroom – this is the space above your head in the frame. This allows viewers to see your facial expressions and gestures more clearly, making for a more engaging experience.
Audio quality
As we mentioned earlier, audio quality is just as important as video quality when it comes to podcasts. Make sure that you have a good microphone set-up and that you're recording in a quiet location with minimal background noise.
Post-production
Once you've filmed your podcast, you may want to consider adding some additional visual elements in post-production. This could include things like intro and outro animations or lower thirds (graphics that appear in the bottom third of the screen, typically containing the name and title of the person speaking).
What are some tips for editing your podcast episodes?
Once you've filmed your podcast, it's time to start editing and polishing your content. Here are a few tips to help you get the best results.
Start by trimming out any unnecessary or irrelevant segments of your recordings so that you're left with only the most essential parts.
Try to be consistent when it comes to things like pacing, volume levels, and audio quality. This will make it easier for people to listen from one episode to the next without getting distracted or bored.
Consider experimenting with different types of visual effects – such as adding text overlays and animations  – in order to enhance your content and make it more visually engaging.
How can you make sure your podcast looks professional and polished?
There are a few things you can do to make sure that your podcast looks professional and polished, regardless of whether you're recording in-person or online.
Some key steps include…
Investing in quality equipment  – for example, by choosing high-quality cameras, microphones, and online recording platforms, such as Zencastr.
Using appropriate software for editing your recordings such as Audacity or Adobe Audition, which are both free and easy to use. The same is true for your video editing; we recommend checking out tools like Final Cut Pro or iMovie.
Planning and scripting your content in advance so that you can work quickly and efficiently when filming or recording.
Getting feedback from others whether its friends and family or experienced podcasters and video producers. They can help you refine your content and make it the best it can be.
Hiring an experienced editor or producer who can help enhance the overall quality of your content.
Creating custom graphics that will make it easier for viewers to engage with your content – such as intro videos, transition animations, and lower thirds. This ensures that your podcast looks polished and well-produced, even if you're just recording from a home office or spare room.
Final thoughts
Filming your podcast is a great way to create engaging video content for your audience. By following the tips in this blog post, you can ensure that your final product is high quality and professional-looking. Thanks for reading!