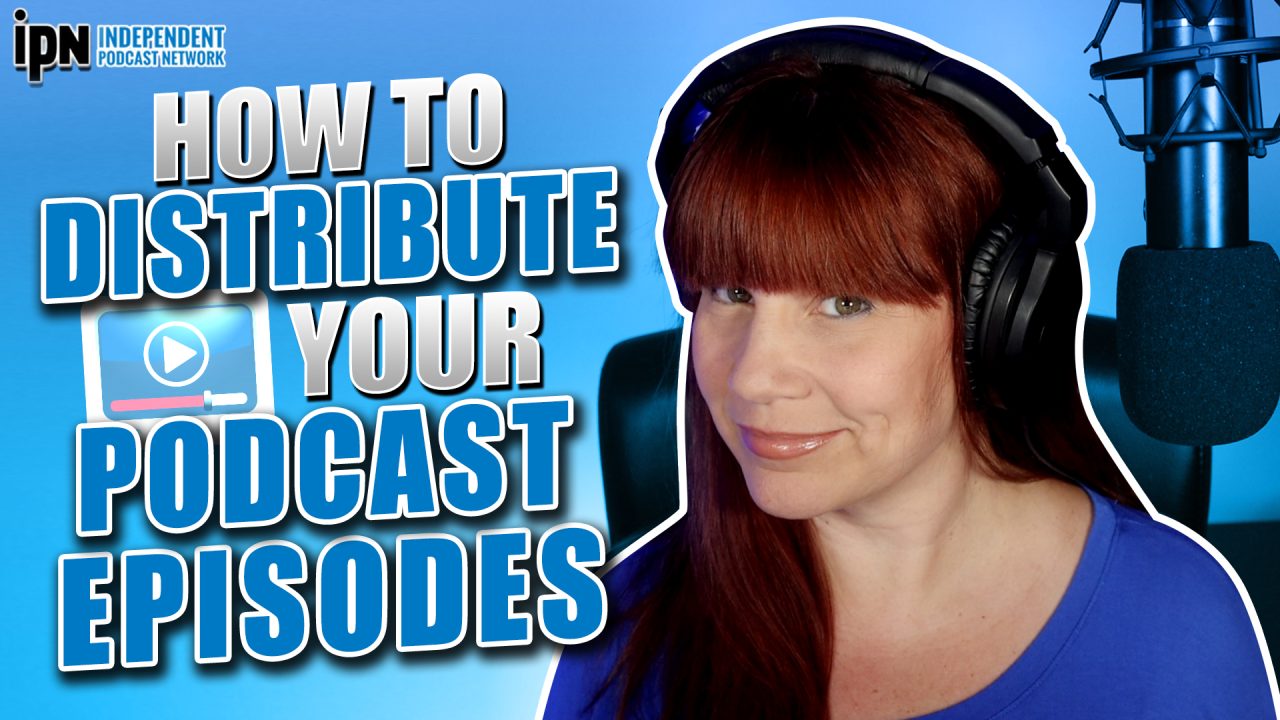 easily add your show to podcast directories and apps
You've created some episodes for your new podcast, and now it's time to share them with the world. Since podcasts are free, you want to be in as many places as possible. Allow your audience to find you on their favorite podcast apps. So, how do you do that? There are a lot of places where you can listen to podcasts. Today we're exploring how to quickly and easily make your podcast available on the top podcasting apps and directories.
Here's what we're talking about today…
The big lie with podcast distribution
Why is podcast distribution important?
What are the top podcast distribution sites?
How do you distribute your podcast through these sites?
Understanding Podcast Delivery: Download versus Streaming
Why you should never rely on your host provider to distribute your podcast
the most popular podcast directories
Here's a breakdown of the most popular directories where people listen to podcasts. Download our guide and create accounts with each of these sites so audiences can easily find you!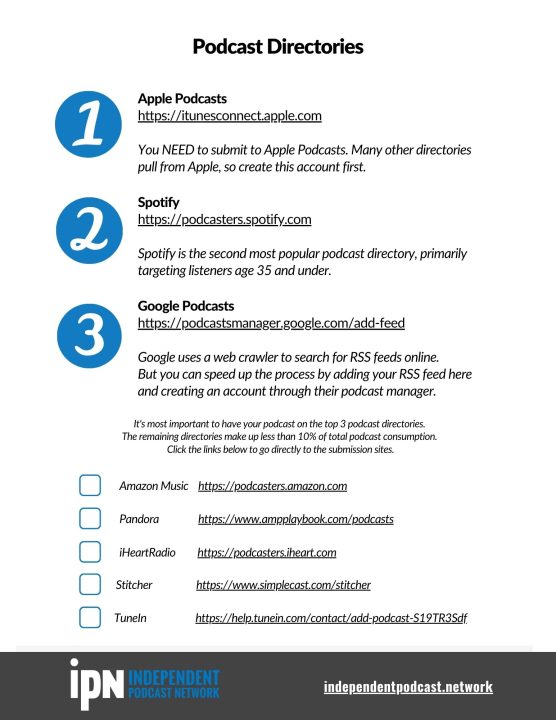 Episode Transcript
0:00
So you've created some episodes for your new podcast. And now it's time to share it with the world. Since podcasts are free, you want to be in as many places as possible. Allow your audience to find you on their favorite podcast apps. So how do you do that? There's a lot of places where people can listen to podcasts. Today, we're exploring how to quickly and easily make your podcast available on the top podcasting apps and directories. Take it away, Mister radio man. Podcast You Business.
0:39
Hello, and welcome to Podcast Your Business. I'm Sunny Gault. I am a podcast coach and a mentor. And I've been doing this whole podcasting thing for about 17 years now. I think I'm what they call an early adopter. I'm also the founder and CEO of a company I would love for you to check out. It's called Independent Podcast Network. And you can find us at the longest URL in history, which is https://independentpodcast.network. Today, I am here to help you create amazing podcasts specifically for those of you who are creating podcasts for your business. But if you're just creating a podcast, because you love the podcast, you can definitely benefit from this content as well. So how do we do this? We do this by mastering the five P's of podcasting. Yes, so the five P's of podcasting are what I think you need to know, based on my own podcasting experience, again, I've been doing this a long time. If you want to have a successful show, you're going to master these five piece, this is what I've learned. So the five P's are prep. Should you even start a podcast? What are the reasons that you think you want to start a podcast? Can you really do this? Should you do this? Plan the look and feel for your podcast? So your overall show format? How often you released your episodes? Are you doing audio you doing video? Are you doing both produce, that's the actual content creation. So the recording and editing all that good stuff, promote is telling everybody about it. Because just because you create a podcast doesn't mean people are gonna listen, people have to find out about it. So how do you do that. And then finally, profit. Now, obviously, this has to do with making money. And I think this is most important for those of you who are connecting your podcast to your business. If you're just doing this for fun, you may not need that final P. But it is it's nice to make money when you podcast, right. But for those of you that are doing this for your business, somehow it has to tie back in to getting your business more money making your business more profitable and successful. Maybe that's bringing you more clients, maybe that's connecting you with other people that are influencers in your space. So you can collaborate, whatever that is for you. But you need to kind of be thinking about that if you're doing it for your business. So those are the five P's of podcasting. Mr. radio man, which of those five Ps are we talking about today? Promote.
3:06
Yeah, this definitely falls into the promote category, I usually encourage people to focus on production on their podcast first, get a few episodes done, that you feel comfortable with, that you feel best represents your show. And then let's talk about how you're going to get the word out about your show and get people to listen on a regular basis. That's all part of promote. And that's what we're talking about today when we talk about distributing your podcast. So what specifically are we talking about today? I want to start off with the big lie when it comes to podcast distribution. Dun, dun dun. This is something I recently discovered. I had somebody reached out to me. And there's a lot of misconceptions I'm finding with people that are getting into podcasting right now. So we need to address this distribution live. So that's the first thing we're going to talk about. Next. Why is podcast distribution important? So why are we even talking about this today? Why do we need to get our podcast out there in different places? Why is that important? What are the top podcast distribution sites, which may be the main reason you guys tuned in today? Which is fine. How do you then distribute your podcast through those sites? So what is the process, you know the sites, but what is expected of you in order to get your podcast on these sites or the on these platforms? And I'm also going to talk a little bit about understanding podcast delivery. And that is the difference between downloads and streams because it's really important that you know how these sites are counting how people are listening to your show. So we'll go over that. And then I talked about this quite a bit, because this is my soapbox that I'm going to stand on and that is why you should never rely on your podcast host provider to distribute your podcast. Some people may have an issue with me saying that but I am going to defend that statement for as long as possible as long as I possibly can, because it's just not in your best interest. And I'm going to explain why. And we're going to get started on all that right after this quick break.
5:14
Okay, so I want to start things off by addressing this issue that we're having in the podcasting space. Right now, as you know, podcasting is growing, we have over 5 million podcasts that are available on these platforms for people to listen to, that doesn't mean they're all producing content right now. But it's still content that people can find. And so we're finding more and more people get into this space and try to make a business out of it. And a lot of people don't really know the podcast space that they're getting into. And they're hiring these people that are, quote, unquote, experts. And that are you basically feeding them a bunch of lies when it comes to podcast distribution. So let's address this. The big lie is that you have to hire someone to distribute your podcast, that may be true with television, that may be true with films and cinema, you know, the more movie theaters that show your podcast or your podcast in your film, the better I get that. But podcasting is totally different. As we're going to talk about today, there are basically the top three sites that you need to be on. There's other ones that you can add your podcast to. But all of that takes an hour to do. So do not hire anyone to distribute your podcast, even if they say, Oh, we're gonna get your podcasts on, you know, whatever, these radio platforms or whatever, was listening to these radio platforms. I had someone this is like a year ago say, Oh, we're gonna put your podcast on what was it Sirius radio, but it was channel 1000 that it added at that no one ever listens to right. So be careful with this, especially if someone's going to charge you to do this. If it's something that you want to do this for free. I'm all about putting your podcast in as many places as possible that's free. But don't get bamboozled into these lies with people that are like, oh, you know, they throw these fancy numbers out there like, oh, 10 million people have the ability to hear Yeah, they have the ability to hear but no one's listening to channel 5020. Okay, so please do not hire anyone to distribute your podcast. That is the big lie. And we're going to end it today. Because a lot of people are getting screwed over. And that's not fair. People are taking advantage of you don't let them do that. Okay. Off my soapbox for that.
7:48
Let's talk about why podcast distribution is important. Why are we going through all of this? Well, obviously, we want as many people as possible to find our podcast, whether it's an audio podcast, or video podcast, we want them to find it. We want to help people. We want to have more influence, not in a negative like, Oh, I'm so influential. But usually people get into podcasting because a it's fun. And be they want to help people. And if you can't find your audience, then that's a problem, right? Another reason you may want to distribute your podcast is you want to eventually get advertisers for your show. Nothing wrong with that. That's one of the things my network does. We help people podcast that we work with find advertisers. So as you grow your audience, then you can start to work with advertisers and monetize your show in other ways. So that's why we're talking about this today. You need to be on the right platforms, so that people can find you and so that you can do these things with your podcast. Okay, so what are the top podcast distribution sites? This has been interesting because it has fluctuated over the last five to 10 years. But there's really a top three I mentioned this earlier, there's a top three that I would say, ASAP even if you think you have zero time to do this, get on these sites. And there's like, there's like the junior varsity. There's the varsity and then the junior varsity. Okay. So the top three are the varsity. And then I have a list of six more that really five more that I would say, Okay, once you're done with Varsity, then go to JV. So, who are these distribution sites that Sunny speaks of? Okay, you've heard of the top three I'm sure Apple Podcasts first and foremost, get yourself on Apple Podcasts. And if story, okay, we'll talk about how to do it in just a second, Spotify. Get yourself on Spotify. Now, these different sites have different demographics and different types of people that listen Okay, but these are the big, big places where people are listening to podcasts. And the third to round off our varsity team is Google Podcasts. So you got Apple, Spotify and Google. Google isn't, you know, Google has their own phones and Android. That's, that's really what we're talking about. You know, when we talk about Google, that's kind of like the Android version of stuff. So that's why you have to be on Google. It's also really good for search. Obviously, they know what they're doing.
10:29
Alright, so let's talk about our JV team. And by the way, you don't have to write all this down. I've got a I've got a handout for you. Okay. We have Amazon music. They're kind of a late player in this whole space, I would say, but they kind of came out of the gate. You know, Amazon is known for music, you play music, through your devices in your house, all that kind of stuff. So, so that's worthwhile. So we've got Amazon Music, Pandora, I know it's an oldie but a goodie. IHeartRadio, Stitcher, and Tune In. So remember, I said they're six. And I was like, yeah, there's five. Okay, so those are your five JV members. But I want to talk to you for a second about YouTube. Now, when you think of YouTube, you probably don't think of podcasts. However, if you do create content for YouTube, you may have noticed that when you create content, now you have the ability to define if the content you're uploading is a podcast or not. And that is because and he has insider information here. I actually know someone that works for Google, and is testing out a program right now, specifically for podcasts. Now, it's not 100% available. And his podcast is actually one that's being tested as part of this program. But eventually, what YouTube is going to allow is for you to completely upload all of your episodes to YouTube through an RSS feed, which everybody has, right because if you have a podcast host provider, that's one of the things your podcast host provider gives you is your RSS feed. And that's what you need to distribute your podcast. So that's just a little teaser. Now, there are people that are spending a lot of time now converting their audio podcast into something that plays on YouTube. And they they're thinking that they're doing this to get more exposure, right, better distribution, because YouTube is well known for being very good at pulling up that kind of data when people are just searching for content online through a search engine. Right? The problem is, it's just not really working out. If anyone has tried to do this before you know what I'm talking about. I speak from experience. I have converted, audio podcasts added visuals added, you know, you can even do this with audio grams where it converts the entire episode, and then you put that up on YouTube. And it has been very painful. There's even apps that will automatically do it for you, they will pull from your podcast RSS feed and convert it into some sort of video format. without you doing anything extra, they probably upload it to your YouTube account as well. But these are not converting. This is not really helping you Yes, you can check a little box to say yes, my podcast is on YouTube. But it's not really helping all that much. So my advice is don't worry about all that stuff right now. Because we have this inside knowledge about YouTube. Hang on, I don't know when this new feature is coming out right now as we're recording this, it's the end of July of 2023. I'm hoping in the next few months based on what my contact is telling me. But you never know, it could get delayed. But that is going to be a much stronger and easier way for you to distribute your podcast on YouTube is just doing it through an RSS feed. So my advice is hold off. Okay, just sit tight, and focus on your podcast. Don't worry so much about YouTube distribution at this point, because bigger and better things are coming.
14:12
Okay. So now you know the sites. But what is involved in this whole distribution process? Honestly, it's fairly simple. None of these sites require you to pay. If someone asks you to pay money, you know, come on our site, and you pay us and will host not host your podcast, but we'll you know, your podcasts will be seen on our site, don't do it. Don't do it. You know, unless it's a huge site, and then that's somehow a marketing opportunity for you and you negotiate some sort of deal. But for the most part, you're not going to have to pay for podcasts distribution. That's just not how this industry works. So why would you why would you pay, right? Does that make sense? So what will you have to do? Many times, you'll have to create some sort of an account doesn't take very long, okay, and then they're going to ask you a series of questions, you're going to need to know your podcast RSS feed, again, you get that from your podcast host provider. So just copy that, have it available, you also probably need to know what categories you want your podcast to belong to, so people can find it. And you're probably gonna have to verify that you own the podcast somehow. So perhaps they send you an email, and then you've got to verify it, so it'll send it to the email that is listed in your RSS feed. So if you have a dummy, I don't recommend you ever do this. But if you had a dummy email address, it's part of your RSS feed, because you don't want spam, then you're not even gonna get, you know, you're not gonna get these kinds of notifications. So don't do that. Have some sort of email, even if you don't check it all the time, that's okay. I understand not wanting spam. But make sure there's a legit email in your RSS feed, because you're gonna have to verify that you own the podcast. And that's usually how they do it. And I also have a little tip for those of you who are doing this for the first time, so you've just created your podcast, and you are now applying or you don't really apply, but you're going through this whole process of setting up these accounts, and getting your podcasts on these sites. A lot of times we have a launch date in mind. We're like, oh, you know, like, we're going to launch the podcast, it's going to be on August 1, right? If you're going to do that, my recommendation is, and I think I've done an episode on this already, so you can check it out. But create a promo for your podcast first. And probably I would do even a month before that gives you plenty of time, I don't think it'll take that long. But put your promo out there on these distribute distribution sites First, don't think that you're going to create the sites, and within 24 hours, everything's going to be available. Even if they end up creating your account. It still isn't quite indexed in their system. So unless people have the direct URL, they might not be able to find it. So I always say create your promo first. It can just be 30 seconds, a minute, whatever you want. This is my podcast, this is what I'm doing my podcast, whatever you wanted to say you can take it down later. Okay, but you need something to put up there. Not your first episode, because you know, you want to wait to your you know, official launch before you put that out there. But some sort of promo where you decide to distribute your podcast usually has to do with, well, how many people are going to find my podcast at this site. So the reason I said Apple podcasts Spotify and Google podcasts are varsity is because that's where the vast majority of people are going to find your podcast. In fact, most of the smaller, let's just call them podcast apps, directories out there are actually pulling from Apple podcasts. So if you're on Apple podcasts, you're gonna end up on a ton of other sites that you've never heard of. Sometimes I'll be like googling the name of my podcast. I'm like, What is this? We're on this, how do we get on this? They're literally pulling your RSS feed. And they can do that because everything's free. And by the way, regardless of wherever your podcast is distributed, all of that information is going back to your podcast host provider, and you are seeing all of those downloads, are those impressions. Why wouldn't you want your podcast everywhere, gone are the days where we are trying to control where media goes, again, meet your audience where they're at. And then there's other ways to monetize it. But I'm not a huge fan of saying, Oh, I'm only on this platform. I'm only on that platform. I know, people like Joe Rogan get paid big bucks to do that. And kudos to them for being able to pull that off. But I'm more about get the content out to as many people as possible. For me, it's not about the dollars, it's about helping people, right and being wherever they're at and whatever apps they're comfortable with.
18:46
Let's talk about how these different platforms are distributing your content. So how are people hearing this? How are they accessing your episodes, and this comes down to streaming versus download. And I thought that this was important to bring up in this episode, because not a lot of people know the difference. So let's talk about this for a second. Because this all comes back to the numbers of people listening to your show. So you need to know your different options. When people are downloading audio, it's exactly what it says. So they are taking your mp3 file. And they are downloading it to some sort of device but they're just using an app or some sort of platform to do that. Now the nice thing about that is that allows people without internet to listen, how many times have you gone to hop on a plane and been like, oh, I need to download this because I'm not going to have access on the plane. Right. So there is a time and a place for that. The downside to this is that from a podcaster standpoint, once someone downloads your content, you don't have any more stats available to you. Besides that initial download, they could download your content, listen to it on their desktop, wherever they want, transfer the file wherever they want, they could listen to your episode 500 times, and you're only going to get credit for that one download. You also don't get information about how long they've listened in an episode, maybe they only listen for the first minute, but you're not going to have any of that information. So that's kind of the downside, we do find that almost all of these apps are moving more towards a streaming concept. Okay. And I have some numbers here for you. So I found a top what is this kind of top 10 list, if you will, of apps for both downloads and streams. So by far Apple is the biggest downloader, if you will, the biggest app for downloading episodes as opposed to streaming at 70%. Okay, they have the market share 70%. Spotify is next but they have less than 10% I Heart Radio, Alexa, overcast Stitcher, so all of those are like it's in a descending order. So by the time you get to like Alexa, overcast Stitcher, those are like 1%. Okay, so by far, Apple is still set up, they are kind of the industry leader, right? And originally with iPods, that's how people listen to content, you downloaded the episode. So Apple is still built on that. In fact, I just pulled up my apple podcast app. And the default is to automatically download the last five episodes of any podcast you follow. So you can see how that can kind of throw off some numbers, right? If you are not downloading the content, then the other option is to stream the content. And honestly, Spotify made this standard for the reasons I've already talked about, you just get a lot more data. Because when you are streaming you're providing on demand content. And you can actually see when the listener is actually listening, it's not like they download it and save it for later, they are actively listening, so you get a lot more stats. And fact the information is delivered in small chunks. So you get more data about how long they listened for when they stopped listening, all of that good stuff. And the top apps for streaming. Right now, let's see, Spotify has market share at 33%. Apple is next. Now that may sound a little bit confusing, but because so many people listen to Apple as their primary place where they find podcasts, they're still gonna rank really high. So even though people primarily download, they're still ranking high for streaming as well at 26%. Then we have iHeartRadio 6.2%, Google Podcasts 3.6%. And then it says Chrome, so I'm sure you know, that's people just listening through their browser at 2.8%. So now you know how these distribution sites are getting the content to your listeners.
23:26
Now, I want to step back up on my soapbox, because the last thing that I want to go over with you is why you should never rely on your podcast host provider to distribute your podcast for you. So you found your podcast host provider, you're uploading your episode, and then a lot of times, they'll be like, Hey, do you want your podcast? You know, put on Apple Podcasts? Do you want it put on Spotify? And they'll have like a one click option, which is very appealing, I get it for you to have your podcasts on all these sites. The problem is when you do that you create at least the potential for a huge mess. Should you ever try to leave that podcast host provider and go to another site to another podcast host provider, which happens quite frequently. A lot of people will start in fact, I recommend this when you're brand new starting a podcast, have your podcast hosted on a free site. So you don't have those extra costs. But when you're ready to monetize, then move to a site that specializes in monetization and gives you the tools that you need. So this is something I encouraged with podcasters once you get to a certain point, and if you have distributed your podcast through your initial podcast host provider, it's not impossible to transfer but it's a pain in the butt. And a lot of times you end up losing some listeners because what happens is the podcast host provider will sometimes create separate RSS feeds for each of those sites that they're going to distribute your podcast to and when you do that If you create an issue, because when you redirect your podcast to another podcast host provider, you want everyone who's already subscribed to your podcast or followed you on whatever sites to continue following you, right? Do you don't want to lose your audience? Well, it's all based on your RSS feed. So if your podcast host providers created, you know, 10 different RSS feeds for you, it's not impossible to transfer that. But a lot of times, they don't make it easy. So that's why I say, you know, with your podcast host provider, get your main RSS feed, and then take one hour, because I promise you, that's all it's going to take. Take one hour to distribute your podcast to those main sites that I was telling you about. And on that note, we're gonna take a quick break, because I have a special handout for you that is going to make all of this very simple. We'll be right back.
25:54
Earlier in the episode, I did a rundown of the top sites where I think your podcast should be distributed. So remember, I talked about Varsity and JV. And I have a document, okay, a PDF that I'm going to give you for free, that lists all of those different places as well as the link. So these are hyperlinked and the PDF will take you directly to where you need to go to sign up for the accounts and do the things that you need to do. As I mentioned, if you are steadfast in this, and you don't let anything bother you, and you just sit down and do it, it should take you an hour or less to initially set these up. There may be some follow up where you have to respond to an email just to confirm your podcasts and things like that. But this is not a huge endeavor. This is why I say don't let anyone deceive you by saying oh, we're going to publish your podcast all these places. You can do it yourself in an hour. And I have a document that is going to walk you through the entire process. So you're welcome. The link to that is in the description below. It's all available on our website, independent podcast dot network. We've got a ton of free content there guys. I have whole courses on how to podcast I break down the five Ps of podcasting. I've got a brand new course that teaches you all about dynamic ad insertion when you're ready to actually monetize your show. And I give it to you for free because I want to help podcasters of all sizes and I know not everyone has a huge marketing budget and that is fine. Again, meet people where they're at I practice what I preach, I promise you so please check us out at https://independentpodcast.network. And until next week, remember you should start a podcast!