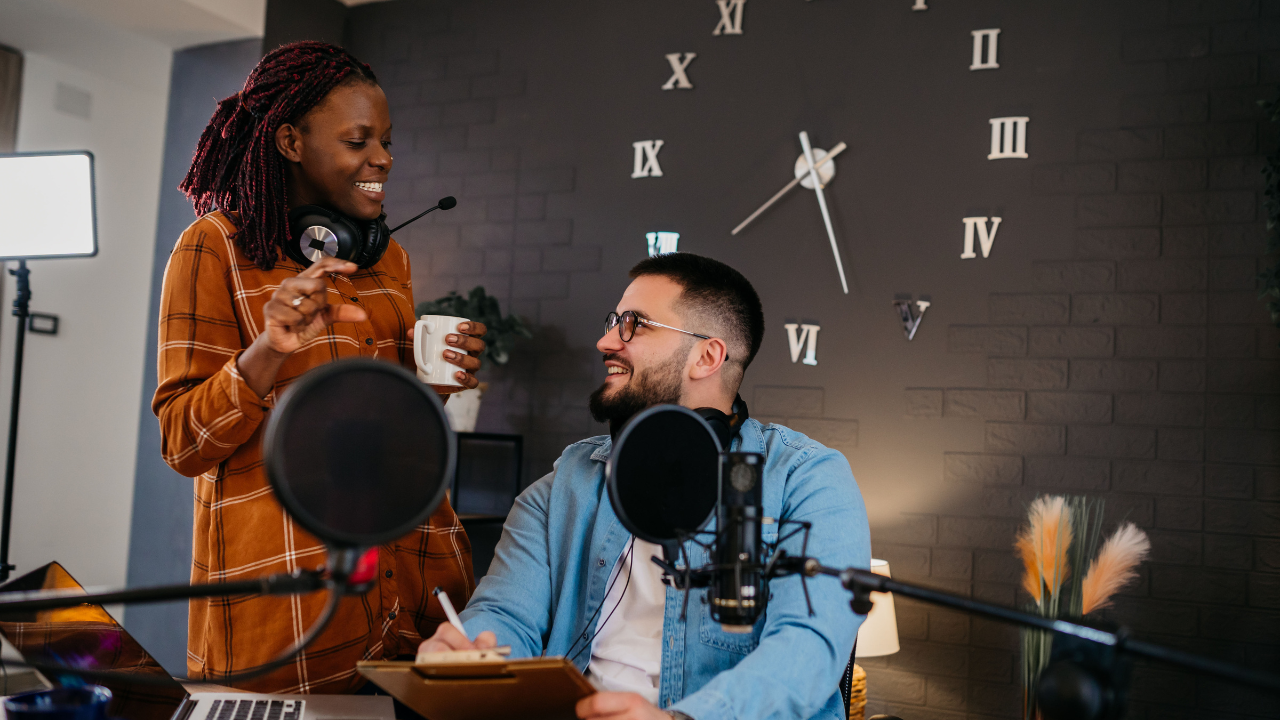 As a podcaster, one of your main goals is to grow your audience and engage your listeners naturally. That's where cross-promotion can help. Cross-promotion is a cooperative marketing strategy where two or more podcasts promote each other to their respective audiences. This makes it a natural way to expose your content to a new audience while helping you build professional relationships in the podcasting community.
How Cross-Promotion Works in Podcasting
While the idea of cross-promotion is simple, understanding how it works in practice helps you come across as an expert in the industry. So, here are a few common ways you can cross-promote with other podcasters:
Host-read ad: An easy way to cross-promote is with host-read ads. This is when you and another podcaster agree to promote each other's shows during your respective episodes. Essentially, you both introduce each other's podcast to your audiences, widening your reach.
Guest swapping: Appearing as a guest on another podcast and bringing them on as a guest on your show is a great way to cross-promote. This strategy not only introduces variety into your content, it also allows each host to directly reach a new set of listeners.
Social media shoutout: You can also use cross-promotion to grow your social media by sharing each other's posts on your story or giving a direct shoutout to a specific podcast episode. This helps increase the exposure on both social media pages and encourages interaction with your audiences.
Collaboration episodes: A more extensive form of cross-promotion involves creating collaborative episodes with another podcaster. You can create round-table discussions, host special events, or even co-host an entire series. Creating collaborative content allows listeners to experience a blend of both podcasts' content and perspectives.
How Can Cross-Promotion Help Your Podcast?
By teaming up with another podcast, you're introducing your show to a whole new group of listeners. And because they're already tuning into a podcast that's similar to yours, chances are, they'll be interested in what you've got to say, too.
But it's not just about numbers. Cross-promotion can mix things up and keep your content fresh. Think about it: having a guest from another podcast or creating a joint episode can bring in new perspectives. This can keep your loyal listeners engaged and pique the interest of new ones.
And let's not forget about credibility. When you partner with a podcast that's already well-established, you're likely to get a credibility boost. It's like getting a thumbs-up from someone your listeners already trust.
One more thing – podcasting isn't just about broadcasting content, it's about building a community. When you cross-promote, you're not only sharing audiences but also making connections with other podcasters. It's like joining a bigger team, where everyone's working together to make the podcasting scene even better.
Where Can You Find Podcasts to Cross-Promote With?
Finding the right podcast to cross-promote with can significantly boost your podcast's exposure and audience. Here's a closer look at five strategies to help you find the perfect partner:
Use Your Existing Network
Start your search close to home – your existing network. Perhaps you've met other podcasters at a live event or online, or maybe you've developed relationships through mutual guests. These connections can be a great place to start, as you're already part of the same community and your audiences may have similar interests. Reach out to these podcasters and suggest a cross-promotion opportunity. Even if they're not interested, they might know someone who is.
Leverage Podcast Cross-Promotion Websites
Consider using podcast networking websites like Podmatch, rephonic, and MatchMaker.fm. These platforms work like dating services for podcasters, using algorithms to pair up podcasts based on audience demographics, genre, and more.
They allow you to create a profile, browse potential partners, and reach out to those who seem like a good fit. While some offer premium features for a fee, they all simplify the process of finding suitable podcasts to cross-promote with. However, always listen to potential partners' podcasts to ensure compatibility before agreeing to cross-promote.
Engage on Social Media Platforms
Social media platforms can provide you with more value than a place to share content. They also make a great spot for networking. Next time you use your social media, look for podcasters in your niche that stay active and start engaging with their posts. This engagement gives you a starting point to start building a relationship you can use for cross-promotional opportunities.
Join Podcasting Groups and Forums
Online communities dedicated to podcasting, such as Reddit threads, Facebook Groups, or forums like Podcast Movement, are filled with podcasters looking to connect and grow. These platforms often have specific sections where podcasters post about cross-promotion opportunities. Join these communities, participate in discussions, and keep an eye out for potential partners.
Attend Podcasting Conferences or Meetups
Don't underestimate the power of in-person networking. Podcasting conferences or meetups offer opportunities to meet fellow podcasters, learn about their work, and discuss potential partnerships face-to-face. These events often foster a collaborative spirit, making them ideal for finding cross-promotion opportunities. Plus, they're a great way to learn about industry trends and pick up new podcasting tips.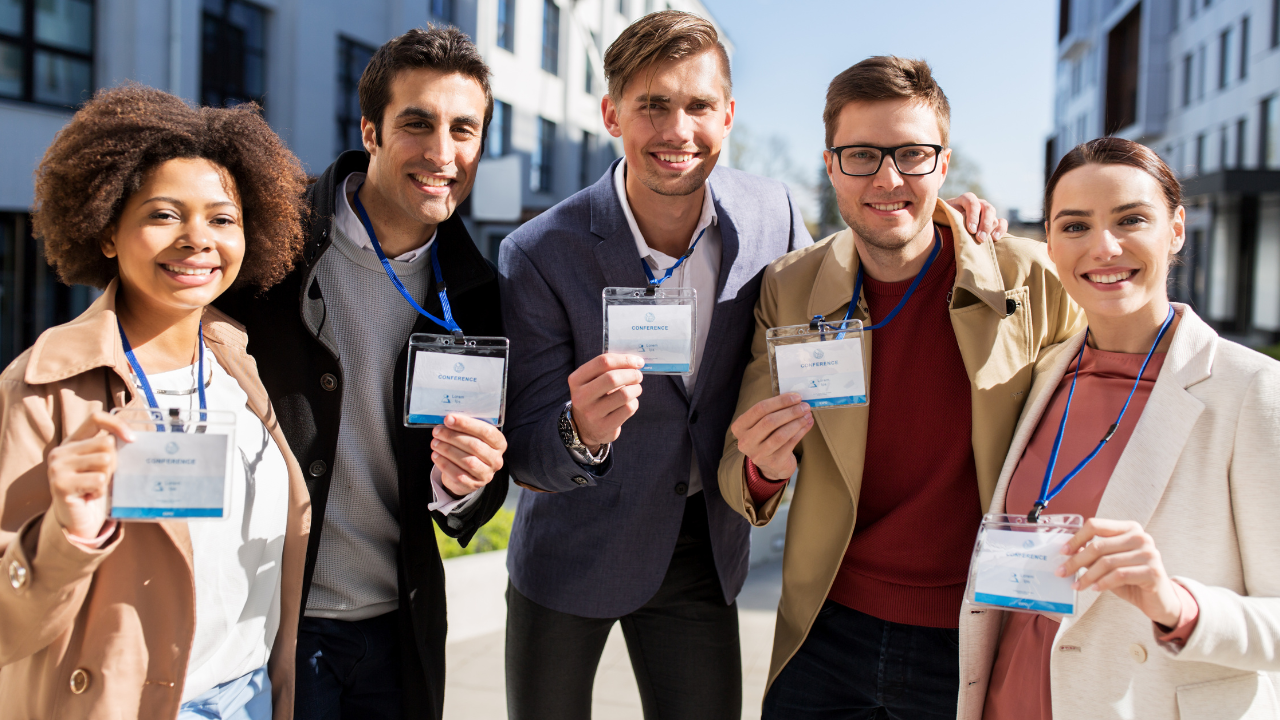 Tips for Effective Cross-Promotion
Cross-promotion can be an effective way to increase your podcast audience, but it's important to approach it with a strategic mindset. Here are some key tips for successful podcast cross-promotion:
Find the right fit: Look for podcasts that feel like a natural fit with yours. You want a partner that grooves with your vibes – in content, tone, audience, and values.
Work out the details: Found your podcasting match? Awesome! Now, sort out the specifics of your cross-promo. Is it a shout-out, a guest spot, or a joint episode? Clear communication now saves headaches later.
Make it genuine: When it's go-time, keep your promo genuine. Share why you dig the other podcast and why you think your listeners will too. Authenticity goes a long way with listeners, so ditch the script and speak from the heart.
Promote across platforms: Don't contain the cross-promo to just your podcast. Give it a shout-out on your website, social media, newsletter – anywhere your audience hangs out. The more exposure, the more likely each of your listeners will give the other podcast a spin.
Evaluate and adjust: After the cross-promo, take a minute to check the stats. Did your listener numbers get a boost? Did your audience have any feedback? Use this intel to fine-tune your cross-promo strategy and make your next collaboration even better.
Conclusion
Podcasting isn't a solitary endeavor. It's a space defined by its community, by the conversations that take place between hosts, guests, and listeners alike. Cross-promotion serves as a bridge, connecting these conversations and creating a wider, interconnected network from individual podcasts.
With smart planning and a genuine approach, cross-promotion can significantly expand your reach. So, dive in, explore the possibilities, and see where this path takes your podcast.