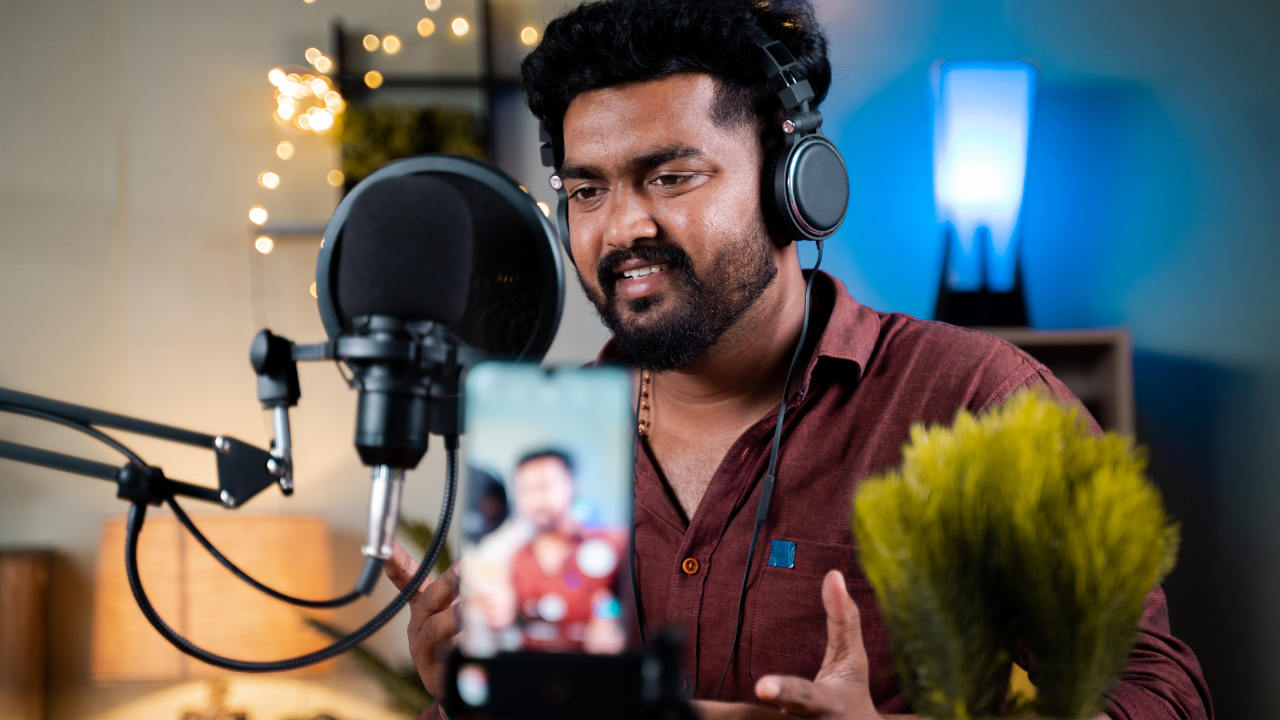 With so many social media platforms out there, how do you choose where to focus your social media marketing efforts? Well, the latest data suggests Instagram Reels offer a way to reach a massive audience even with a low follower count.
But, where do you start? How do you navigate the new world of Instagram Reels? This article guides you through everything from the basic requirements of a Reel to creating your first Reel that engages viewers and turns them into fans.
How Can Instagram Reels Help Your Podcast?
Posting on Instagram is pretty easy. You just make a graphic or take a photo then write a description and you're done. But, Reels, they take a bit longer. You need to record a video or edit a highlight from your video podcast then create a description, add tags, and finally upload. But, is this extra effort worth it?
A study done in June 2022 threw up some fascinating findings. It turned out that Instagram Reels were reaching the stars while traditional posts were still tying their shoelaces. For Instagram accounts with up to 500 followers, Reels were reaching a whopping 900% of their audience. Now, compare that with the 77% reach of images, and you'll get the picture.
And it doesn't stop there. Even for accounts with a followership between 500 and 2,000, Reels were still the rockstars, reaching about 152% of the audience. Images, on the other hand, were trailing behind at 27%.
What does this all mean for your podcast? Using engaging Reels can help a larger crowd discover your content, interact with new listeners, and build a community for your podcast. So, if you're looking to turn the volume up on your podcast audience, it's time to roll with Reels!
Instagram Reel Requirements
Before creating and publishing an Instagram Reel, we need to review a few key requirements. First off, always remember that Reels are meant to be short and sweet. We're talking 15 to 30 seconds with 60 seconds being the absolute maximum length. It also needs to be a vertical video with a 9:16 aspect ratio.
To share Reel and maximize your reach, you also need to make sure you set your Instagram account to public. If your account is private, your Reels only show up for your current followers and it prevents your Reels from showing up on the Explore page.
Creating an Engaging Instagram Reel
Making a killer Instagram Reel isn't rocket science, but it does require a bit of thought, creativity, and a splash of fun. So, let's break down the process step by step.
Understand Your Audience
Understanding your audience is the first and most critical step. Use Instagram Insights to gather data about your followers – their active hours, demographics, and location. This information can help you craft a Reel that resonates with the way your target audience uses Instagram.
Plan Your Reel
Once you take a few notes on your Instagram audience, start planning out your Reel. Planning involves defining an objective for your video, putting the key message in writing, and deciding on the format that will best deliver your message. You can also create a storyboard to visualize your plan. Coming up with a clear aim for your Reel keeps your content focused while allowing you to fully assess its effectiveness.
Hook Your Viewers
The first few seconds of your Reel are vital for capturing attention. You can use an intriguing statement, a sneak peek of your podcast episode, or a visually appealing clip to hook your viewers. Make sure your hook is compelling enough to reel in your audience.
Choose Quality Content
As a podcaster, most of your Reels will be excerpts from previously recorded video podcast episodes. Choosing segments that are compelling, insightful, and aligned with your objectives keeps the quality of your content consistent across platforms. You can also use Instagram's creative tools such as AR effects, text overlays, and countdown timers to enhance your video.
Edit Your Content to Refine Your Reel
After choosing the content you want in your reel, it's time to edit the video. Instagram's built-in editor has tools for adding text, music, stickers, and adjusting volume among others. However, some creators prefer using external editors for more robust editing options and to avoid potential loss of content due to glitches. Make sure to spend enough time in the editing stage to ensure the audio of your Reel is perfect for mobile devices and the content engages the viewer.
Prepare to Publish Your Reel
Once your Reel is polished, prepare it for publishing. If you created your video externally, upload it by clicking on the + sign at the bottom of your feed and scrolling across to "Reel". Craft a captivating caption for your Reel post that is concise, informative, and engaging. You could tell a story, pose a question, or include a call to action related to your podcast.
After finalizing your Reel, click Share to post it. Optimize your posting time based on your audience's online activity to maximize visibility. Tagging relevant accounts, such as your podcast guests, can also help increase reach.
Evaluate Performance
Use Instagram Insights to measure your Reel's performance. Monitor viewer engagement, watch times, and overall reach. This data can help you understand what's working, what's not, and how you can make your next Reel even better.
Repurpose Your Content
Once you've created a successful Reel, consider repurposing your content for other platforms like TikTok or YouTube. Reposting your content across platforms maximizes the value of your efforts allowing you to reach more potential listeners.
Conclusion
Instagram Reels is more than just a flashy new feature. It's an innovative way to amplify your podcast's reach and introduce your content to folks who might not have discovered you otherwise. And the best part is Instagram loves to promote Reels as they continue to prioritize video content.
When creating your Instagram Reels, get creative with your content and see what resonates with your audience. Remember, there's no one-size-fits-all recipe for success. What works for one podcast might not work for another, and that's okay. The beauty of Instagram Reels lies in its versatility and the opportunity it provides to truly let your podcast's unique personality shine through.